JOSH FINNEY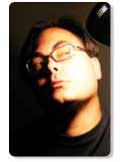 DIGITAL ARTIST
3D DESIGNER
MAD SCIENTIST

Glitchwerk is the combined talents of digital artist, Josh Finney, and traditional artist, Kat Rocha. We specialize in science-fiction / fantasy art, concept art, and graphic design. Our style features a fusion of 3D modeling, digital painting, and traditional art techniques. Glitchwerk's art has been featured in the acclaimed UK magazine Interzone, on several CD album covers, and in numerous collectable card and online games. Most recently Glitchwerk was commissioned by Star Trek writer, Jimmy Diggs, to do pre-production for an episode of Star Trek: Enterprise.

SERVICES OFFERED
• Sci-Fi and Fantasy Illustration
• 3D Modeling & Animation
• Concept & Design
• Graphic Design (product & packaging design)
• Charcoal, Graphite, and Ink Rendering.
• Comics & sequential art.

Read what clients and critics have said about Glitchwerk Studios...




Glitchwerk is currently available for hire and/or private commission.

KAT ROCHA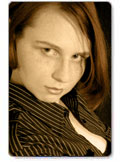 ILLUSTRATOR
PHOTOGRAPHER
ACTION HERO